Flips Ohulahan ringleader rule enforcer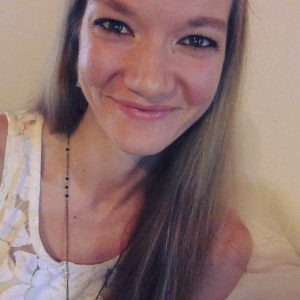 Lydia Smith…Lydia Smith ~ E-RYT, LMT MA75549 & MT0022030
Finding freedom through touch.
I first developed an interest in healing and helping others as a child growing up in West Africa, where my parents do nonprofit and mission work. I have since developed a deep interest in exploring cultures around the world and their ways of healing and artful expressions. I also love dancing and thai yoga massage feels so much like dancing!
I have spent thousands of hours training in and practicing the healing arts, and I strive to incorporate all I've learned (and what I continue to learn!) in every session and class.
Here are some of my certifications and licenses:
– Colorado Massage Therapist (MT.0022030)
– Florida Massage Therapist (MA75549)
– Certified Advanced SomaVeda™ Thai Yoga Practitioner and Instructor
– NCBTMB Accredited Continuing Education Provider
– Natural Therapeutics Specialist
– NM Certified Colon Hydro-therapist
– Yoga Alliance Certified Continuing Education Provider
– 200HR E-RYT Hatha Yoga Teacher
My education in practicing healing arts began in 2007, when I received my certification as an Iyengar-influenced Hatha yoga instructor from Yandara Yoga Institute in Todos Santos, Baja, Mexico. I then graduated from the New Mexico School of Natural Therapeutics and practiced massage and bodywork until I became certified as a Thai Yoga Therapist in 2011.
In January 2012, I was graciously given the Master's blessing and lineage holder from Dr. Anthony B. James, in the 37th generation of Masters from the Buddhai Sawan Martial & Healing Arts School in Nongkam, Thailand.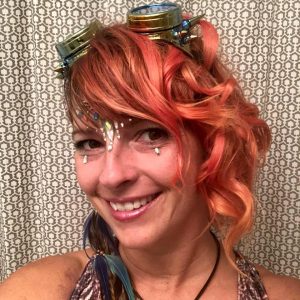 Micki Mooney…Catch her if you can! Micki's introduction to Acro was a happy accident: what started as a solution to a none-too-exciting Sunday afternoon quickly became whirlwind of acro-adventures around the country. After completing Acro Revolution Teacher Training in 2014, her love of traveling acro led her to co-founding AcroEverywhere (host of the Philadelphia Phlight Festival) – because location is no obstacle if there's an opportunity to play! Her most recent adventure is co-owning and operating Rebel Circus Arts in Philadelphia, when you can't run away to join the circus, you make the circus join you! When not upside-down with her fellow monkeys, she can be found caring for other furry beasts in her right-side-up job as a small animal veterinarian.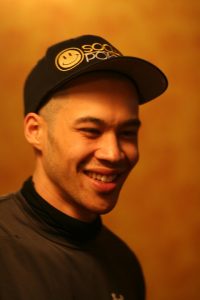 Jeremy Martin…Fitness Professional since 2001: personal trainer, yoga instructor, strength coach, and avid acroyoga enthusiast. Born in NYC, but now traveling as @HomelessYogi.
We all walk different paths. The human body is how we walk, run, duck, climb, and shuffle through life. He teaches people how to move efficiently and effectively: the gym, home, outdoors, everywhere.
Jeremy has a diverse skill set and prefers to be a jack of all trades. He strongly believes in the human bodies adaptability, and is constantly surprised by our physical and mental capabilities.
You can find Jeremy busking regularly on the streets of New York City. Or you might see him at a festival or workshop with his partner, Micki Mooney. He also created AcroYogaNewYork.com as a way to help muggles learn about the magic of acro.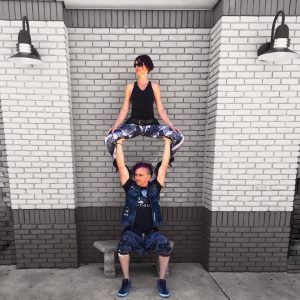 Danny Smith & Aniane Smith…We, (Danny & Aniane) are a husband and wife team who love to spend our days together playing, learning, and growing. We are always willing and happy to share everything we know to spread the joy of acro. We look forward to seeing you someday, and playing. We have been married for 30 years. We met in the mid 1980's in Germany while Danny was stationed there in the U.S. Army. We fell in love with partner acrobatics after attending an acro workshop. We continue to hone our skills and knowledge of acrobatics by attending and teaching at numerous workshops and trainings throughout the world.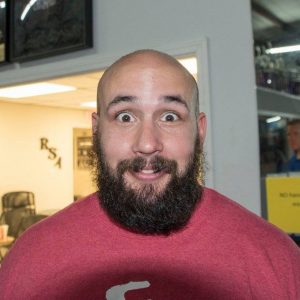 Andrew Halford sexy and single Former collegiate cheerleader professional cheer and stunt coach at premier athletics in franklin tn.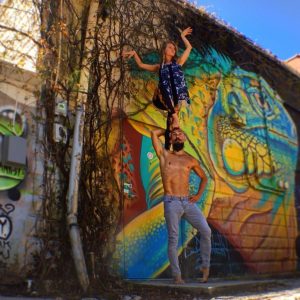 Jack Carter & Kianajeanne Farrell..Kiana and Jack have been performing and teaching together for one year now!
Jack is a USA Gymnastics Certified Coach, an American College of Sports Medicine Certified Personal Trainer, Acro Revolution Teacher and a working circus artist who brings a lifetime of teaching experience, energy, enthusiasm and an eye for safety to beginner and advanced students alike. Jack has taught from coast to coast, in Central America and in Hawaii.
Kiana has 18 years of dance training and nearly ten years of instruction experience from ballet, modern and contemporary dance to yoga and now beginner and intermediate partner acrobatics. Kiana and Jack enjoy teaching together most of all!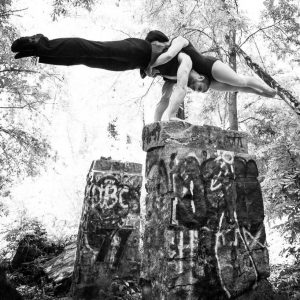 Joshua Romeo& Sara Musial Romeo…Romeo Acro consists of husband and wife acrobatic duo, Josh & Sara. The couple started over six years ago when Josh, a parkour athlete, met Sara, a former gymnast, and started training and performing together. Since then, clips of Romeo Acro have been seen on "The Ellen Show," "People are Awesome," MTV's "Ridiculousness," as well as stunt work on films, TV, and commercials and have earned accolades including American Ninja Warrior finalist and Guinness World Record holder. Josh is an ACE certified personal trainer and Sara is a NASM certified personal trainer and licensed physical therapist assistant and have over 15 combined years of coaching.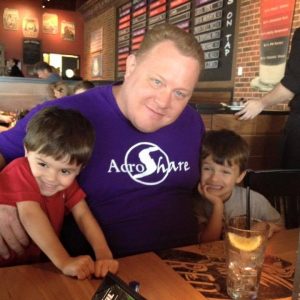 Jason Smith, Maren Hill, & Tracy Goodale…Jason Smith (Big Red) has been teaching partner stunts for over 20 years to teams from all over the world. For the past 4 years, he's brought his cheer knowledge to the f2h acrobats of the acroyoga world.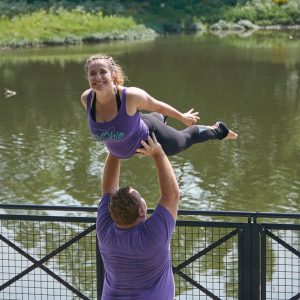 Maren Hill (Little Bit) is a DC based AcroRevolution and AcroYoga Montreal teacher. She loves teaching and training all the things. Maren's playful classes focus on progressions, and building fundamental skills of partner acrobatics.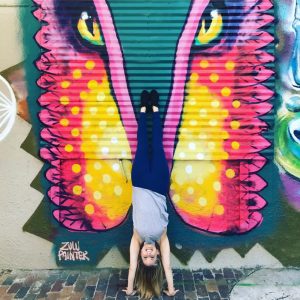 Tracy Goodale is an experienced cheerleader and acrobat. A foot to hand queen, Tracy loves to share acro and partner stunting with everyone. Based in Atlanta, when she's not flipping through the air, Tracy is a nurse and cat and dog lover.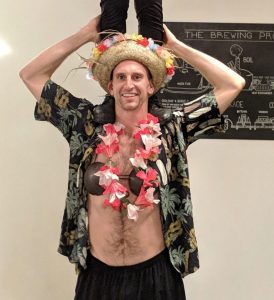 John Marquiss & Ryane Duffey…Certified Acro Revolution Teacher
Certified Partner Acrobatics Teacher
Certified AcroYoga International Teacher
Three time Pitch Catch Circus Graduate
John is passionate about travel (102 countries and counting) and building community. In pursuit of his mission to connect with acro communities around the world, John was the first person to practice AcroYoga on all seven continents. And he will continue to claim he is the first until someone else tells him they've done it before him.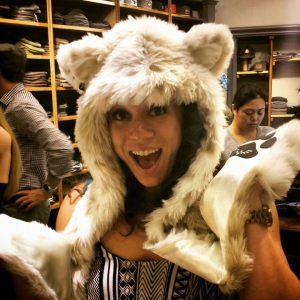 Gabi Naumann Former crossfitter turned acrobat that can take you down and put you up too.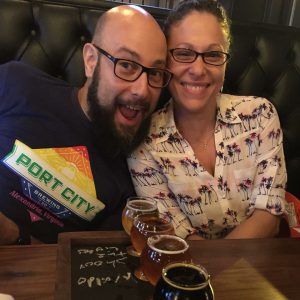 Ari Dorman & Dana Coppola…Ari Darmon has been training partner acrobatics for 4 years. In the past several years acro has taught him lots of things: communication, trust, strength, and resolve. Ari is a certified personal trainer, Sports-nutrition-certified, and a certified Acro Revolution teacher. He has taken many workshops and has been teaching acrobatics for several years . His training focus includes dynamic hand balancing, Icarian, and dance acrobatics. He also enjoys other forms of dynamic acrobatics. When not being a sturdy base Ari enjoys trail running and biking with his canine companion and the company of friends and loved ones.
Dana Coppola has been training partner acrobatics for about 2 years. Before acro, she trained and competed in gymnastics throughout her school years. Her preferred events were vault and floor exercise. She also spent several years coaching a competition team. Later, she got into ballroom dancing, eventually competing in pro/am competitions. The aspects of partner acrobatics that Dana enjoys are dynamic hand balancing and Icarian. Dana is also an endurance athlete, competing in running events and triathlons.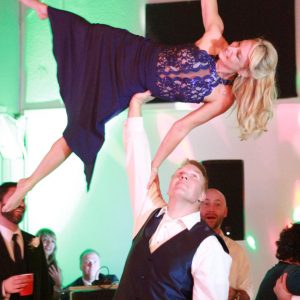 Magen Orth,james fowler & Robert Liles…Magen is a Certified LIFT Teacher. She blends 15 years of competitive cheerleading with her love for yoga. She holds a Master's of Science in Nursing and has over ten years of experience working as a RN and Nurse Educator. Combining her passion for teaching, knowledge, and the human body, her mission is to create an outlet for creativity and healthy fun, making AcroYoga accessible to everyone.
Robert Liles has been doing acro for over three years and received his AY Teacher Certification in Mexico in 2017. He has been traveling and teaching acro from Japan to the States. Fun fact…his favorite animal is a centaur.


James Fowler has a BA in Communication, was voted #1 yoga teacher, is E-RYT 500, and received his AcroYoga teacher certification through AY. James approaches yoga and acro through foundational principles, then slowly stacks up little things in order for his students grow. He has taught acro at various places and events including Divine Play, Wanderlust, and in the rain forest.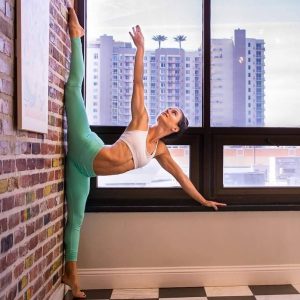 Julliette lauer& joseph gray…Juliette has always had a love for fitness, movement and flying. She grew up dancing, tumbling and flying as an allstar cheerleader and later began practicing partner acrobatics. She shares her talent through performing and teaching both locally and afar. She loves teaching because it allows her to motivate and inspire, helping people discover what they're capable of. She teaches beginner to advanced partner acrobatics, acroyoga and flexibility. She trains and teaches at The Movement Sanctuary in St. Pete, Florida.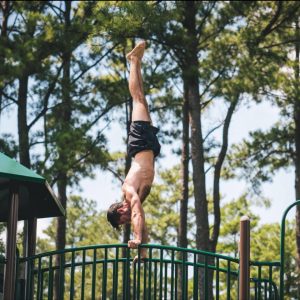 Joseph has travelled across the country in pursuit of continued education in the refined arts of strength, balance, partnership, and trust. In his (infrequent) free time he enjoys playing piano, climbing, and standing on his hands. He currently teaches acrobatics in St. Petersburg Florida at The Movement Sanctuary.
buddy smith,jeni Saddleer& Ryan Saddler…YogaSlackers 2018 Graduates with a variety of slack line and acro experience, ready to share the love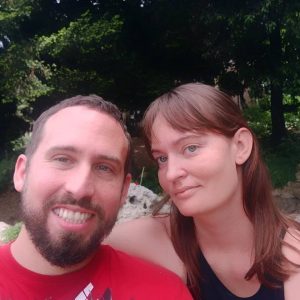 Aaron & Amanda Holm…Amanda & Aaron have been teaching and sharing their love of acro with others for 3 years. Their classes focus on safety and progressions, making challenging skills accessible.
In 2017 they sold their house and became digital nomads. They are currently traveling the country in a RV teaching, training, playing, and having fun. Amanda has a master's degree in education and training and Aaron is a Lift certified teacher.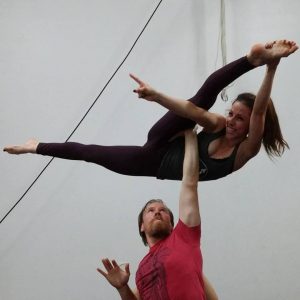 Steve Machalek – Instagram: @acroyogafoodie
Acro Yoga International Certified Instructor – January 2017
Yoga Alliance Registered Yoga Teacher – September 2014
Lift School of Acrobatics Apprentice Program – 2018
Taught at the following festivals: 2017 AcroYoga Fest: Bangkok, 2017 Acro Camp Midwest, 2018 Florida Acroshare, 2018 Acroshare, 2018 Acro Camp Midwest, 2018 Lift Acro Fest, 2018 Divine Play
Taught numerous Acro classes and workshops in the Orlando, FL area over the last 3 years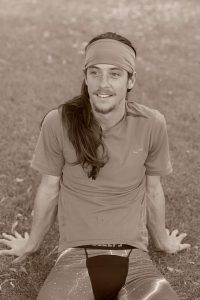 Bryson Lloyd – Instagram: @brysonblue
Lift School of Acrobatics Certified Instructor – 2018
Taught at the following festivals: 2018 Lift Acro Fest, Wanderlust New Orleans 2018, Glow With the Flow Performance Festival 2018
Taught numerous Acro classes and workshops in the New Orleans, LA area over the last 2 years
Regular Acro Performer at House of Blues: New Orleans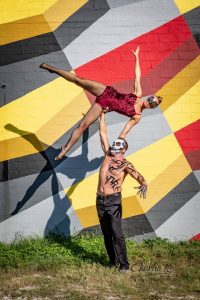 Becky Long – Instagram: @acrobecca
8 years competitive gymnastics
8 years adult recreational gymnastics (5 years competitive)
Former Cheerleader for the University of Michigan
University of Michigan Alumni Cheer, Board Member
4 years Swim and Gymnastics Instructor – YMCA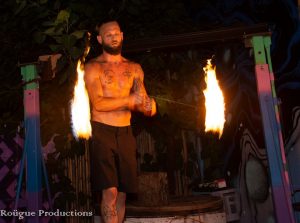 Aaron Tremper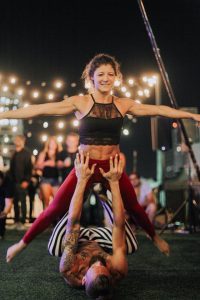 Jessica Deleo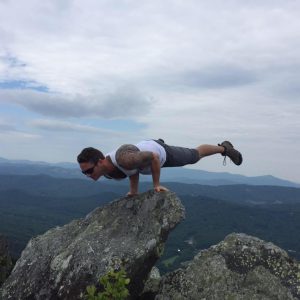 Josh Mauro


Tori Hart

andrea hidalgo & Darren Ceckinowicz Darren and Andrea have been teaching in their local communities and at festivals for over a year and have since both graduated from the LIFT School of Acrobatics teaching apprenticeship in August 2018. Above all else they love playing with partner acrobatics and believe that strong foundations are essential to building a dynamic, creative practice that allow for seamlessly integration with other communities and add value to any partnership.

kimberly akuna & Sabrina Camille…Kimberly and Sabrina are both certified Level 1&2 Montreal Acroyoga teachers. Long flows, slow movement and creative sequencing are their favourites.


joe yonek

Tamin holm & Emily Sabo..Tamin has been teaching acro for 3 years at Florida Institute of Technology and has been sharing his love of acro by hosting a weekly jam for the last 2 years while growing the community. He regularly attends acro events and studies everything to bring back to his home community. He works as a robotics engineer and applies his knowledge of mechanical engineering, kinematics and dynamics to positions, control, and movements of the acro world.
Emily Sabo, owner of EKS Beachside Bodywork (Indialantic, FL), has been practicing and teaching Yoga, Pilates and Pain Management for well over a decade and has spent the majority of her life studying various traditional and non-traditional modes of bodywork and various forms of massage and pain management methods. More recently studying, performing and teaching contortion and aerial arts, acro yoga was a natural transition for Emily, who is now a self proclaimed "acro addict" trying to bring contortion, inversions, aerial arts and yoga principles into acro at every opportunity!!!